Main content starts here, tab to start navigating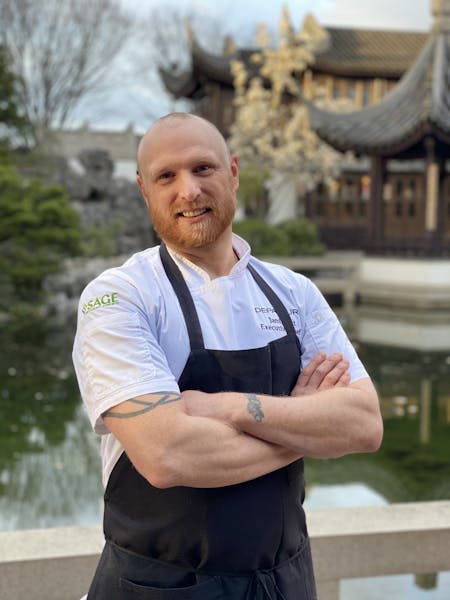 Jami Flatt
Executive Chef
With a focus on health, wellness, and work-life balance, Departure Executive Chef Jami Flatt brings 20 years of professional cooking and kitchen management experience to his role at the Nines Hotel in downtown Portland, OR. Flatt's menus exemplify his demand for high quality, seasonal, locally grown food, and his profound respect for farmers remains evident throughout his practice. As Executive Chef, Flatt draws from these tenets to prepare a diversely inspired miscellany of upscale modern Asian dishes, sourcing ingredients from Northern California, Oregon, and Washington to offer a Pacific Northwest approach.
"Great ingredients start on the farm with passionate growers. I'm a firm believer that food should be minimally processed to accentuate what the grower and Mother Nature have done," Flatt says. His commitment to quality food goes beyond a desire for the best flavors and textures—leading a culinary team of multiple sous chefs and over 35 prep and line cooks, Flatt recognizes how the use of exceptional ingredients can contribute to the professional growth of cooks and instill a sense of pride in kitchen staff.
As a child in Iowa, Flatt's grandmothers and mother provided early culinary inspirations as he watched how family dinners united people around food. Upon earning a degree from Arizona's Scottsdale Culinary Institute in 2000, he began as a line cook at The Ritz-Carlton Phoenix, at which Flatt credits Master Chef John Johnstone for mentoring him in culinary finesse. After climbing the ranks to sous chef in 2004 in Phoenix, he transitioned to The Ritz-Carlton Club Aspen Highlands in Colorado two years later as chef de cuisine. In Aspen, Flatt learned lessons from General Manager Nicholas DiMeglio, which he continues to use today: "He gave me a great base of knowledge into how to understand a restaurant as a business. These decisions directly correlated with using higher quality ingredients," Flatt explains.
In 2010, Flatt moved on to The Silver Queen Restaurant in Aspen as the opening chef de cuisine— managing supplier relationships, kitchen design, and the farm-to-table logistics. Additionally, he spent a year as chef and owner of JF Culinary, an in-home special event caterer. Snowmass Kitchen at the Westin Hotel in Snowmass, CO, snagged him next as chef de cuisine on the opening team.
Heading to the West Coast, Flatt joined the Nines Hotel in downtown Portland in 2013 as the hotel's banquet chef, overseeing daily banquet and catering operations, the employee cafeteria, and the club lounge while also creating personalized menus for galas and weddings. Two years later, he moved up—literally, to the hotel's rooftop restaurant to become the chef de cuisine for Departure. In 2018, he was promoted to executive sous chef for both Urban Farmer and Departure. Flatt became the executive chef of Departure in January 2020, where he now oversees and manages its culinary operations.
A certified culinarian and a fermented foods enthusiast, Flatt has earned leadership awards from five hospitality institutions, including "5 Star Employee of the Year 2002" and "5 Star Quality Leader/Trainer of the Year 2004"at The Ritz-Carlton Phoenix, "5 Star Leader of the Year 2007" at The Ritz-Carlton Club Aspen Highlands, "Leader of the Year 2015" and "Leader of the Year 2019" at the Nines Hotel, and more.